GPN ITALY EXECUTIVES
Profile of Rev. Dr. Francis Adjartey - GPN ITALY PATRON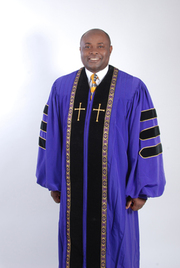 Rev. Dr. Francis Adjartey
REV. DR. FRANCIS ADJARTEY IS A GREAT AND ANNOITED MAN OF GOD, full of wisdom and understanding, gifted and multitalented musician and vocalist. As a lovely husband, he is faithfully married to BISHOP DIANA ADJARTEY for over 25 years with two children who are ministers, Ephraim and Christiana. One secret behind Rev. Dr. Francis success story is his Christian heritage and Godly upbringing. He is a son of the late Pastor Frederick and Mrs. Christiana Adjartey who were co-founders of the church of Pentecost in Ghana. Trained under loving and disciplinarian parents, Rev. Francis grew up to know and love the Lord from his youth. No wonder he responded to the call of God to sacrifice his attractive professional and career opportunities to become a gospel minister, the number one supporter of his wife's ministry. Indeed, he has invested so much financially and materially to ensure the furtherance of the gospel.
Rev. Dr. Francis is one of the few men in the leadership world today, who has given his full blessing and active backing to the full-time ministry of his wife. He is of the first African pastors who have allowed his fellow pastor-wife to travel freely across the globe in doing God's work. He is a peacemaker and an excellent support to his wife and together they have pioneered many ministries and mentor many spiritual children and raised many gospel ministers. He is a co-founder of Kingdom of God Mission International. He is a sound Engineer.
---
GPN ITALY AMBASSADOR (MILAN)


---
GPN ADMINISTRATOR ITALY




Pastor Christiana Danquah Akoto is the K.O.G.M.I. adjautant to Bishop Diana. In GPN, she stands the role of the missions director in Italy. Discipline, Promptfulness, Multitasking and Business Skills are the characteristics that makes a unique jem in the body of Christ. She is the beloved adopted Daughter of the GPN President. She is married with two children: Joel Emmanuel and Diana "Baby Bishop" Francisca
---
GPN ITALY REPRESENTATIVE (FERRARA)
Rev. Liberty Idewele
Rev. Liberty Idewele is the founding minister of House of Faith Ministry in Ferrara, Italy. He is known for his moving zeal in the Lord. Of recent, he was elevated into a Reverend after seven and half years as a pastor, while his honourable wife was ordained as a Pastor to the glory of God.He is married blessed with two chlidren.
Contact:
libertyose4christ@yahoo.com
---
GPN ITALY REPRESENTATIVE (BOLOGNA)
Ps. Florence Omogiate



Rev. Florence Omogiate is the residing Minister of Kingdon of God Mission International (KOGMI) Bologna , Italy. She is a woman of great testimony of salvation while also wins prostitutes for Christ.
---
GPN REPRESENTATIVE (BRESCIA)


Pastor Micheal Afari is a pastor of Kingdom of God Mission Int'l in Brescia brunch. he is married to Mrs. Frida Afari and blessed with two children.
---